Thanks for all your comments and suggestions on .
The article of the week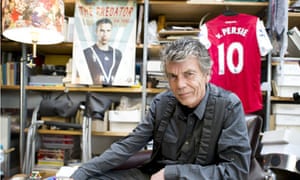 Poor Paul Dalglish, Jordi Cruyff and Darren Ferguson. These sons of famous fathers have done their best, but they were never going to live up to their surnames. Bob van Persie, the artist, sculptor and father of Robin, faces a similar dilemma. "It's a blessing and it's a curse," he tells Ian Herbert in this interview for the Independent. "The blessing is it brings a lot of publicity for me too. The curse is that it's hard to keep your own identity. Yes, I have an identity. But his is bigger." Here is some of that publicity – so he can't complain too much.
Other stories we like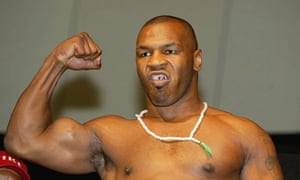 John Saward of Vice uses Mike Tyson's recent press conference – in which the former fighter was meant to talk about his new role as a boxing promoter, but opened up about his addictions – as a starting point for a discussion on masculinity: "He turned a fight into a press conference, a press conference into a confession, a confession into a suicide note, a suicide note into his own eulogy."
Saward's interest in Tyson is intense. For a year he kept a Tumblr on which he posted a picture of Tyson every day: "The people who followed me filled their own Tumblrs almost exclusively with pictures of Notorious BIG and girls with meaty, glistening tits. I think there was such a distinct correlation between those things mainly because they're all awesome. But I think it's also because they speak to something primal, something honest and irresistible and essential about human nature, something that remains after you chisel away our pretentiousness: to fight, to fuck, to shout ominous lines."
For Saward, Tyson is the embodiment of our extremes: "Somewhere, Tyson, that force, is in the work of everyone. In that last quarter-mile; at closing time, as you look at her and try to find the nerve to walk over; in the pursuit of every dream you've ever had. He is screaming and sobbing and pounding his fists. He is grabbing his dick and smiling for the cameras. He is nothing and he is everything. A peasant and a king, rubble and a monument." For others, Tyson's sadness and base impulses may not warrant such acclaim, but Saward makes his case with great eloquence.
Listen up Greg Dyke. To help English football, we need to save the local boozer. It's an ingenious argument and one put well by Neil Cotton in When Saturday Comes: "The pub provides a focal point for a football club; it is place to recruit players, to meet before a game and somewhere to visit after, to celebrate or commiserate, to analyse the game or to sip a pint while watching the big match on TV. The pub can also provide a team with other support through sponsorship, raffles or a venue to hold the Christmas do and the end-of-season presentation. The fate of pubs and their football teams are therefore intractably entwined."
The headline says it all really. Hal LaRoux of Balls.ie enjoys a good gallery. This one is a classic.
Perhaps all those people who are not going to pubs are now signing up for triathlon holidays instead. Swimming, cycling and running for miles doesn't sound like much of a holiday, but Vanessa Barford finds some enthusiasts in this piece for the BBC.
Mr Nick R is a PE teacher based in rural Ireland. When the kids go home, he likes to practice his basketball trick shots and put them on YouTube.
One of the most common complaints about English football is that the country does not know how to develop coaches. Spain and Germany prioritise training their young managers, while England focuses on the glitz of the Premier League and ignores the grassroots game. It's a compelling argument, but one that really comes alive when you read the personal stories of young coaches who have been sidelined to make way for recently retired stars.
In this interview with Andy Maynard of Tibs, coach Daryl Willard tells his story and explains why he ended up working in Azerbaijan: "I left England because I was tired of the closed shop or jobs for the boys attitude which is ingrained in the coaching world. Pro footballers were being fast tracked through their badges and go straight in front of me when I had been working for eight years in academies."
Despite his qualifications and years of working with Tony Adams in Azerbaijan and Brendan Rodgers at Chelsea, Willard still struggles to be taken seriously in his home country: "I was 29, a UEFA A Licence holder and had two seasons experience working with pro footballers, but could not get a job in football. I applied for every position and worked incredibly hard to get back into English football and I managed to get one interview which was part-time working with Under-9s in an academy."
Who is the father of baseball? It might not sound like a fascinating question, but David Block, the "archaeologist hero" who is trying to find the answer, is a fascinating man.
Bryan Curtis of Grantland spent some time with Block and heard about his quest. Block wants to know who invented the sport. His work has taken his back to 12 September 1749, when no other than his Royal Highness the Prince of Wales played a game of "Base Ball" with Lord Middlesex. The prince may even have died from a cricket-related injury, but that is just a rumour. Block is more interested in hard facts. In the words of John Thorn, the official historian of Major League , he is "something of a national treasure. He's not on Twitter. He's not looking for likes on Facebook. He's doing the thing for its own sake, which is not only the realm of history but the realm of art."
Should Fox Sports have withdrawn their job offer to Craig James after the pundit said that being gay is "a choice" and that gay people will "have to answer to the Lord for their actions"?
Conor Friedersdorf, the Atlantic writer and supporter of gay rights, thinks not: "Robust, open public discourse about homosexuality has brought about steady gains for proponents of gay equality, but a campaign by the victors to stigmatise the defeated could bring about a backlash... I'm a bit perplexed by the people who are celebrating his firing under the present circumstances. There are millions of Americans who think homosexuality is a sin. Is the implication that if any of them dare express that view out loud, they ought to be unemployable? If not, why should James be denied this job? What profession is farther removed from the controversy than college-football analysis, which entails watching, dissecting, and describing on-field plays?"
If you love sports journalism, or want to be a sports journalist, read this. And then read it again. And then buy a copy of Dark Trade by Donald McRae.
This week on the Guardian Sport Network
1)
2)
3)
4)
5)
Debate the articles and share your own suggestions below